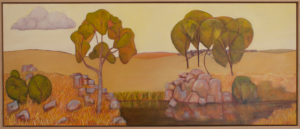 Robert Jackson is a visual artist, multi-skilled musician and performer. He has been active since the 1970s.
Painter Robert's main inspiration is the Australian landscape with its sense of space, forgotten and remnant areas, encroaching suburbs and industry, and is an exploration of the concepts of "Presence" and "Absence": i.e. Is the presence of a factory the absence of a natural landscape? Is a natural landscape just the absence of humans? His recent work has focused on a distillation of landscape into its distinctive elements to examine the concept of identity and place. What makes "Here", here? What makes a place distinctive?  
As a professional artist he has produced many artworks for public and private clients, including councils, government agencies, festivals and businesses. He has had several solo exhibitions and has produced many murals.He has been Artist-in-Residence at: The Hunt Club Community Arts Centre in 2006, Keilor Art Shed in 2013, St Albans SC in 2007, 2103 and 2107, & Waterside Blacksmiths Festival 2013, 2017. Robert has held several teaching positions including at Collingwood Tafe, Prahran Tafe, John Bolton Theatre School. YMCA Avondale Heights, Yarraville Special School, Lynall Hall Community School, and has taught music privately for many years. He was painting tutor at St Albans Community Art Centre in 2018.
Musician Robert studied Composition at the VCA after a BA(hons) in Linguistics at Latrobe University. Playing guitar and saxophone, he has been a featured soloist at Melbourne International Arts Festival and many contemporary music events. He has an abiding interest in the art of Improvisation, which he has studied extensively. In the 1980s he was a founding member/co-ordinator of The Melbourne Improvisers Association Inc., which promoted original music and was a committee member of the similar Make-it-up Club. He has played in a multitude of Rock and Jazz bands and been MD/Composer for Circus, Film & Theatre. He held the part of Weasel in the Australian Shakespeare Company's production of "Wind in the Willows" for 10 seasons. He formed the band "The Legless Lizards" in 2006 to create original music inspired by the landscape of the Western Plains. To date they have produced 6 CDs. 
He is an active member of the Community. He was President of the Albion Ardeer Community Club, a committee member of Friends of Iramoo, and has sat on several advisory boards: Including The Brimbank Arts Advisory Committee, The Eco-living Centre steering committee, the Albion Neighbourhood Plan Community Reference group, and the South Sunshine Arts Precinct Advisory Group. He is responsible for archaeological surveys being conducted along Kororoit Creek in Albion and several other sites.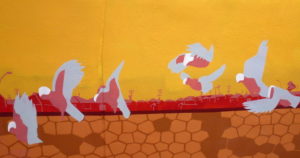 Qualifications
BA(hons) Linguistics, Latrobe University, 1984 
Post Graduate Diploma of the Arts (Music) VCA 1990
Plus:
• Numerous training sessions in Governance, Grant writing, Marketing and Promotion, Community Art
• Extensive musical improvisation study with Brian Brown and Al Wunder
• Current Driver's Licence (car)
• Qualified Bike-Ed instructor
• Working with Children Card
• White Card
• PLI
• ABN

 
Other Specialist Skills and Knowledge
• Over 40 years experience in the Arts
• BCC Artist-in-Residence 2006, 2013
• Experienced Community Artist

 

• Archaeology – Instigated surveys of Cultural Heritage Areas along Kororoit Creek Maribyrnong Valley, Taylors Creek, Brimbank Park, Yanda/Gunderbooka NP NSW
♣ Archaeological Tour Guide

 

• Anthropology, Sociology and Philosophy were part of Linguistics course
• Languages :

   

French, Spanish at Latrobe, Pidgin from childhood in PNG
♣ Some knowledge (words and phrases) of many others including Woiwurrung
Painting – Recent Commissions, Murals & Exhibitions
2018 "African" Mural for Private House, Brighton
2018 "Red Bluff" Mural for private house, Sandringham
2018 STRGC-9, a painting, acquired by Brimbank City Council's Public Collection
2017 Sky – Trees – Rocks – -Grass – Creek. Solo Exhibition Sunshine Art Spaces Gallery
2017 4 – panel mural for St Albans Secondary College library
2017 Public Artworks for Melton Railway Station Underpass for Linking Melton South
2016 Good Luck Alley: Murals and digital artwork Sunshine CBD for Sunshine Business Association
– Highly commended at 2016 Mainstreet Australia Awards
2016 Sunshine Orchids Mural Sun Crescent Sunshine
2015 Pavement Creek Mural for Linking Melton South
2014 Regional Rail Link Murals. Anderson Rd Grade Separation Underpass, Sunshine
2014 Maribyrnong Fantasy, Solo Exhibition. Sunshine Art Spaces Gallery
2013 Exhibition Western Treatment Plant Open Day Werribee
2013 Exhibition Election Day St Marks Spotswood
2013 Mural for St Albans Secondary College Science Building
2013 "Beauties of the Basalt" Exhibition at Hunt Club Community Art Centre
2013 Mural for Waterside Metal-Art Workers, Footscray, created in conjunction with WMAW festival March 2013 – Re-done 2017
2012 2 Paintings for OPEC Technical Services PL, Williamstown Nth
Depicting old oil tanks and Lower Kororoit Creek.
2012 July Exhibition "Up the Kororoit" at Sunshine Art Spaces Gallery
2012 May Exhibition "Up the Kororoit" at Hunt Club Community Art Centre
2011-12 YMCA, Avondale Heights, Mural of native animals for art room
2010 Winner inaugural Westpac Sunshine Art Prize
2009 Keilor Views Primary School, Mural of Grasslands and Native Animals
2008 Sustainability Mural for Discovery Centre Iramoo@VU, St Albans
2007 Solo Exhibition "Hunt Club Arts Centre" Brimbank 
2007 Exhibition "Albion Artists at The Granary",The Granary Café, Sunshine
2007 Large scale Grassland Mural "Numala" at St Albans Secondary College,3 panels 5m x 4m, 1 panel 3m x 4m
2005 Solo Exhibition "Dancing Dog Gallery" Footscray
2004 Rainforest Mural, Private house, Innisfail QLD
2004 Theatre set production and design, VU-CIP, Brimbank        
Many private sales of paintings
– His work is represented in private collections in London, Milan, Cleveland, Stockholm and across Australia.
Recent Music
2016 CD Production of Legless Lizards "Indigenous Zen Garden"
2016 CD Production. Re-recording & Re-Mastering of "The Wind in the Willows"
2015   CD production of Legless Lizards "Journey to Nerm"
2015 CD production of Legless Lizards "Sea of Grass"
2012 CD production of Solo Classical Guitar
2012 CD production of Legless Lizards "Dwelling People"
2010 CD production of Legless Lizards "Green Wedge"
2009 CD production of music from Wind in the Willows
2009 CD Production of "Elements" relaxation Music for Sunyoga
2008 CD Production of Legless Lizards "Levitation Theorem"
2003 CD Production of HOOT – Original Jazz – funded by ArtsVictoria
1990s RJ solo Marine Life and 6 x MIA releases
1980s Packing Death "Spanner of Lerv" "Cog"
Also much session work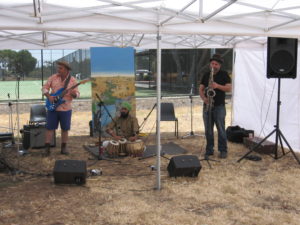 Some Relevant Work History
RACV "Live Steam" TV Commercial Actor 2009
Foxtel "Fridge" TV Commercial Actor 2010
Coles "Butcher" TV Commercial Actor 2011
Grass-land, Sun-Moth Hu-man, Melbourne Fringe 2014
"The Beer Frontier" Presenter and reviewer Ch31 TV production 2010
Contestant on "Letters and Numbers" SBS TV – won one, lost one. 2009
"Legless Lizards" DVD Soundtrack and Launch "Living with Climate Change: A Story of Many Told by a Few" 2012
"Amore" Circus of Dreams NICA – MD, Composer, Musician 1997
"My Secret Marlene" Anna Voronoff Production Canberra and Melb. – MD, Composer, Musician 2004
"Much Ado about Nothing" Australian Shakespeare Co. – Musician 2005
"Wind in the Willows" Australian Shakespeare Co. – MD, Composer, Musician, Actor (Weasel) 2000-2011
"Lost Treasure of Fiji" TV program – Actor 2006
"Two Executioners" Chambermade Opera – Musician 1993, 1996, Age Green Room Award
"Old Wives Tales" Bharatam Dance Theatre – Musician 1997
"Alice" Bharatam Dance Theatre – Musician 1998
"Fabulous Tales from the Horses Mouth" Theatreworks, MD, Composer, Musician, Actor 1989
"50 Sax Fanfare" to open Melbourne International Arts Festival (MIFA) 1993 – Composer, Musician 1993
"Tuxedo Fleas" Tom Waits Tribute by Richard Lewis – Musician 1994, 1998
"Offenbach Circus Dog Show" – MD, Composer, Performer 1995-98.
Artist-in-Residence – Brimbank Council 2006, 2013
"Wombat and Gumshoe" Cartoon for TV by Steve French – MD, Composer, Musician 1987
Musician-in-Residence Historic Replica Ship "Enterprize" 1998-2001
"Red Faces" Hey, Hey, Its Saturday 1994 – Flutes up the nose
"HOOT" Recording Project, Funded by Arts Victoria- Composer, Performer 2003
"King of the Festival" Brimbank festival 2010
MIFA 1993 Metrodome Series
Linden New Musicales 1990-96
MIA events 1986-1995
Brisbane Fringe Festival 1991
Melbourne Fringe Festival 1985-2014
Make-it-up Club 1997-
Theatre of the Ordinary 1992- 2007
Elbow Room 2003-2007
Appearances on ABC, MBS, PBS, RRR, Radio & TV
Teaching
Private music teaching
Commissioned Improvisation Workshops
Music For Theatre at:
Collingwood TAFE (now NMIT)
John Bolton Theatre School
Prahran TAFE Indigenous Arts Program
Music for People with Disabilities Yarraville SDS
Avondale Heights YMCA Sensory Art Program
Instrumental Music, teaching Guitar, Bass, Drums and Keyboard, at Lynall Hall Community School.
And Also….
Since the 1980s, Robert has been a freelancing artist, musician and actor and has worked nationally at Corporate Functions, Festivals, Parties, Shopping Centres and Sporting Events.. Some highlights include:
BMW Series 7 Launch, Port Douglas QLD 1993
Holden Launch, Hamilton Island QLD 1996
VISY Xmas Parties 1996- 2006
Centenary of Federation Celebration 2001
Olympic Torch Relay, Vic and QLD 2000
Australian Grand Prix 2000-2008
Australian Open Tennis Tournament 1999-2008
Clean Energy Week, Sydney 2012
Clean Energy Week, Melbourne 2012
Many civic and environmental events 2000-2019